Episodes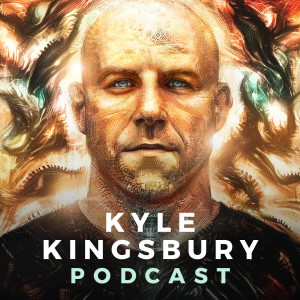 Thursday Nov 10, 2022
Thursday Nov 10, 2022
If it's possible, this is an Organic, Regeneratively Raised Whopper folks, a symphony of flavor packed into a single information flame-broiled burger. I have a bit up ketching up to do here so I'll outline it a bit for yall!
I'll dive into land stewardship and our Garden of Eden in Lockhart
Full Temple Reset signup is live and I'll touch on the focus of that as it pertains to health
Fit For Service Sedona recap and my talk there(synchronicity and alchemy of light/dark)
Eisenstein's substack on Amnesty! OMG
ORGANIFI GIVEAWAY Keep those reviews coming in! Please drop a dope review and include your IG/Twitter handle and we'll get together for some Organifi even faster moving forward.
Show Notes:
 KKP #269 Autumn Smith - Paleo Valley
274. Cometh the Horesemen: Pandemic, Famine, War - Michael Yon and Jordan B Peterson
Sponsors:
Cured Nutrition

has a wide variety of stellar, naturally sourced, products. They're chock full of adaptogens and cannabinoids to optimize your meatsuit. You can get 20% off by heading over to

www.curednutrition.com/KKP

  using code

"KKP"
Bioptimizers

To get any of these folks' amazing products for up to

25%

OFF during their Black Friday sale click the link below and use code word "

KINGSBU10"

for an additional 10% off.

bioptimizers.com/KINGSBU

  
Our Sponsor - Aura

offers all-in-one digital safety for your entire household. Identity theft, fraud, and malware are just some of their offerings. Go to

https://aura.com/kyle

for 14 days free and 40% off your plan. 
PaleoValley

Some of the best and highest quality goodies I personally get into are available at

paleovalley.com

, punch in code "

KYLE

" at checkout and get 15% off everything!
To Work With Kyle Kingsbury Podcast
Connect with Kyle:
Fit For Service Academy App: Fit For Service Academy 
Instagram: @livingwiththekingsburys  
Odysee: odysee.com/@KyleKingsburypod 
Youtube: Kyle Kingbury Podcast 
Kyles website: www.kingsbu.com 
Zion Node: https://getzion.com/ > Enter PubKey 
>PubKey: YXykqSCaSTZNMy2pZI2o6RNIN0YDtHgvarhy18dFOU25_asVcBSiu691v4zM6bkLDHtzQB2PJC4AJA7BF19HVWUi7fmQ
Like and subscribe to the podcast anywhere you can find podcasts. Leave a 5-star review and let me know what resonates or doesn't.