Episodes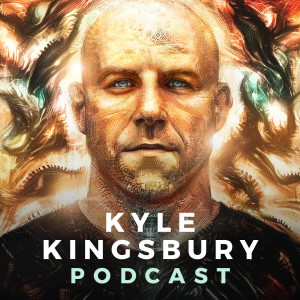 Friday May 13, 2022
Friday May 13, 2022
Matt Maruca is back on the show. He is an incredible resource on health and wellness, especially in the area of our interaction with the sun and the benefits of it i.e. circadian rhythms and hormone balance. Go back to our last episode for all those nuggets. In this convo we dive into his experience in working with Dr Joe Dispenza as well as a catch up on his life over the last couple of years.
Connect with Matt:
Website: raoptics.com 
Instagram: @thelightdiet 
Podcast: The Light Diet
Sponsors:
Aura

offers all-in-one digital safety for your entire household. Identity theft, fraud, and malware are just some of their offerings. Go to

https://aura.com/kyle

for 14 days free and 40% off your plan. 
Lucy

Go to

lucy.co

and use codeword

"KKP"

at Checkout to get 20% off the best nicotine gum in the game, or check out their lozenge.
BIOptimizers

Go check out

P3OM

if you get as gassy as me and the Kingsbu clan do. This is my go to probiotic. Get 10% off by going to

P3OM.com/KINGSBU

and entering code  "

KINGSBU10"

at checkout.
Super Speciosa

is the absolute best Kratom I've worked with head over to

getsuperleaf.com/kkp

and punch in "

KKP

" at checkout

for 20% off everything in store!
To Work With Kyle Kingsbury Podcast
Connect with Kyle:
Fit For Service Academy App: Fit For Service Academy 
Instagram: @livingwiththekingsburys  
Youtube: Kyle Kingbury Podcast 
Kyles website: www.kingsbu.com 
Zion Node: https://getzion.com/ > Enter PubKey 
>PubKey: YXykqSCaSTZNMy2pZI2o6RNIN0YDtHgvarhy18dFOU25_asVcBSiu691v4zM6bkLDHtzQB2PJC4AJA7BF19HVWUi7fmQ
Like and subscribe to the podcast anywhere you can find podcasts. Leave a 5-star review and let me know what resonates or doesn't.